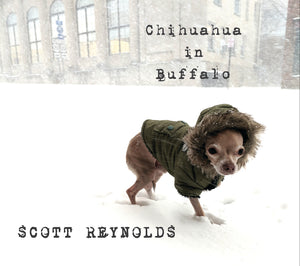 Scott Reynolds - Chihuahua In Buffalo (CD)
Chihuahua in Buffalo is Scott Reynolds' first solo, acoustic album.  
Recorded at the Blasting Room in Fort Collins, Colorado. 
Produced by Scott and his former ALL-bandmate, Bill Stevenson.
Track List:
1. What's the Price for Innocence?
2. Spit
3. If I'm Alright
4. The Boy Who Stole Your Heart
5. Gillian Anderson Should Go on a Date With Me
6. Dr. Dave
7. Marie Is an Easter Egg
8. Brian's Agoraphobia Song
9. The Truth About Tuesday
10. Hello Lee Anne
11. Tracy Hardman's Cheek
12. Dot
Format: CD
2021, Nonexistant Records.
VINYL PRE-ORDER HERE!

Digital format available HERE.